Newson Gale Hoerbiger Safety Solutions

Newson Gale's products are designed to ensure dissipation of accumulated charges from an operating / isolated device through the true earth grounding. The system is easy to use and complies to all major industrial standards such as IECEX, ATEX, SIL 2, NFPA77 & NEPSI.
Al Ghwasa Technical Equipment is the Authorized distributor for Newson Gale products in the Middle East.
Accreditation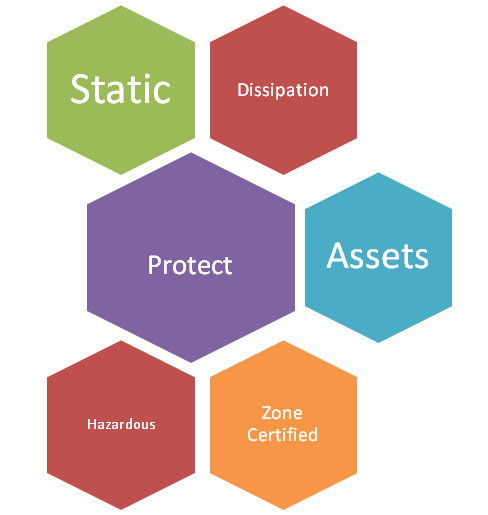 Earth-Rite Series
Where can I use Earth Rite?
Earth-Rite should be used where there is movement of charged particles such as Loading/ Unloading into the road tankers, vacuum trucks or filling, mixing and blending of flammable/ combustible materials in Drums, IBC'S, Portable containers, Storage Terminals in order to ensure that the charged particles are dissipated effectively.
What are the advantages of Earth-Rite range products?
The devices are certified and approved for use in Hazardous Zones.
The built quality of the product ensures it can be used in Harsh environment.
It is easy to install and use.
Ensures that true earth grounding is achieved.
Maintains less than 10 Ohms.
Bright Green Led provides positive indication to the personnel and advises it is safe to continue operation.

Earth Rite RTR
MODE 1 Road Tanker Recognition.
MODE 2 Static Ground Verification
MODE 3 Continuous Ground Loop Monitoring

Earth-Rite Plus
Grounding of Drums, Mobile Tanks
Complies with International Safety Standards
Heavy Duty Stainless Steel Earthing clamp
Interlock stops operation

Earth-Rite Multipoint
Up to 8 monitored connections
Corrosion resistant
Continous Monitoring

Earth Rite FIBC
The Earth Rite FIBC ensures that the Type C FIBC Bag are within the standard and are capable of dissipating electrostatic charges.

Earth Rite Omega
Compact Panel Mounted Static Grounding Module.
4 Resistance set points.
0-2 Ohms
0-4 Ohms
0-10 Ohms
0-600 Ohms.
2 output contacts
Earth-Rite RTR
The Earth-Rite RTR system utilises patented "Tri-mode" technology to establish three key inputs that must be in place before the loading/unloading operation can commence.
Mode 1 | Road Tanker Recognition
In accordance with recommendations of IEC 60079-32, the Earth-Rite RTR determines if the grounding clamp is connected to the main body of the road tanker.
Earth-Rite Accessories
Strobe Light
These compact yet powerful are an Ex Strobe-Lightsoptional extra for use with the Earth-RitePLUS®™ or Earth-Rite RTR Static Ground Interlock System when used in outdoor locations such as Road Tanker and Rail Car loading stations in Tank Farms and Storage and Distribution Terminals.
The Ex Strobe-Light can also be linked to any other Newson Gale Earth-Rite system in applications where process control interlocking is not possible or practical.
In these situations, the Ex Strobe-Light can be used to highlight a "safe ground""no-ground" or condition, to alert supervisors during flammable product transfer operations.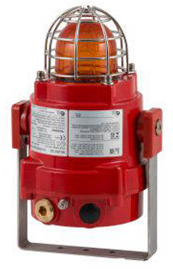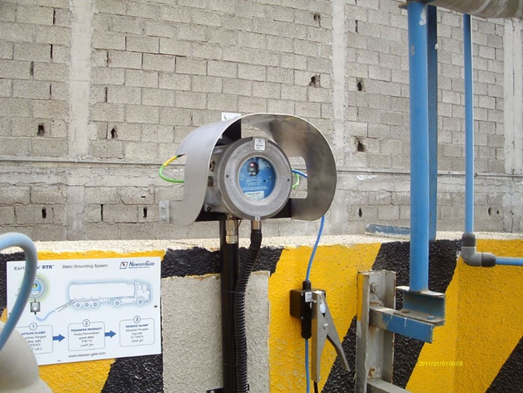 Sun Hood
Designed for operating environments subject to intense sunlight, the ERII Sun Shield prevents direct sunlight hitting the indicators on the Earth-Rite RTR and Earth-Rite PLUS static grounding systems.
The Sun Shield casts a shadow over the indicators during peak sun light hours so that operators can easily view the ground status indicators.
The shield is constructed from stainless steel and can be fitted to any installation in a matter of minutes.
SWGKP1 – Portable Surface Wire Grounding Kit
The grounding kit consists of 4xSS Electrodes, 3x SS Grounding Wires, Fasteners & Canvas Carry Bag (GRK)
A quick and easy to use grounding kit which may be swiftly deployed in emergency or combustible material transfer operations where pre-existing designated grounding points are not available or accessible.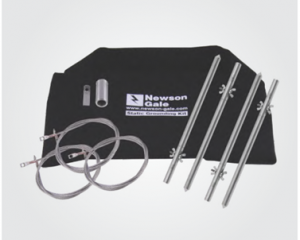 OhmGuard Hose Testing Clamp – OGC15/BOX, OGC10/BOX
The OhmGuard® electrical hose continuity tester is designed to test hoses used on vacuum trucks and tanker trucks prior to the transfer of flammable or combustible products.
Typical Applications:
Testing vacuum truck hoses prior to spill cleanup or material recovery operations.
Testing bulk tanker truck hoses prior to the delivery of flammable products (e.g. solvents) to storage tank farms.
General resistance testing of chemical and petrochemical compatible hoses.
Electrical resistance testing of plant equipment.
Spot testing of bonding assemblies and conductors in the field.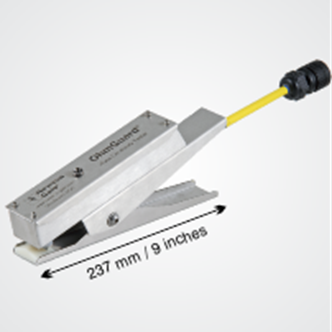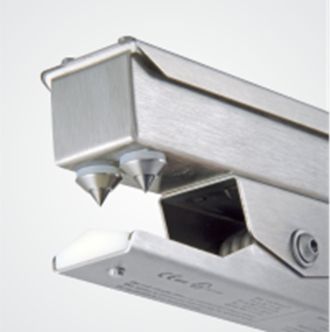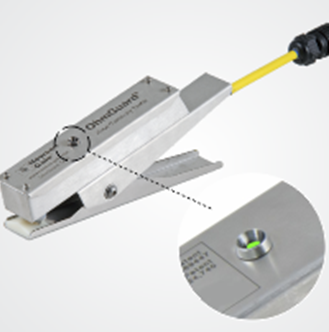 Bond-Rite Series
For applications where control switches or PLCs are not available for output contacts, the Bond-Rite range is the best solution for maximizing the safety of processes generating static in hazardous locations.
Bright Green LED Flashing Lights to indicate the operator if the bonding is established.
Can be used for applications such as drum to drum filling.
Filling and dispensing to/from metal containers, including drums, waste drums, mixing vessels.
Grounding equipment used in mixing and blending operations.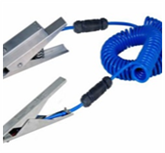 Bond Rite EZ
Tungsten Carbid Teeth
Stainless Steel clamp body
Certified intrinsically safe circuit Bond-Rite EZ.
Verify an equipotential bond between equipment for operations conducted in hazardous locations.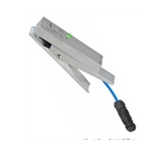 Bond Rite Clamp
Highly Visible LED
Quick Connect
Tungsten Carbid Tips
10 Ohms loop resistance
Stainless Steel Grounding Clamps.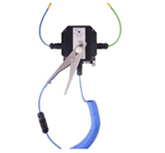 Bond Rite Remote
Self-testing ground monitoring clamp with wall mounted indicator station
Indicator station mounted stowage pin providing operators with a location to return the grounding clamp when the operation is completed.
Heavy Duty Stainless Steel Earthing clamp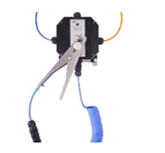 Bond Rite Remote EP
Self-testing externally powered grounding clamp
Bond-Rite EP(Externally Powered) utilises 230 VAC or 115 VAC mains supply / line power to power the unit.
Cen-Stat Products
Static discharge cable reels are an alternative solution to using retractable Cen-StatTM spiral cable. They are normally specified for locations where there is a preference for ensuring process operators stow grounding clamps correctly.
Easy and flexible installation
Supplied in : 20 ft. (6.1 m), 30 ft. (9.2 m) and 50 ft. (15.2 m) retractable lengths.
Stainless steel option with Cab-Lite coated SS304 cable.
Stainless steel mounted swivel provides 130º rotation

The R-series of retractable cable reels are supplied in 20 ft. (6.1 m), 30 ft. (9.1 m) and 50 ft. (15.2 m) lengths. The blue powder coated reel is supplied with Cab-Lite cable which has a yellow coating. The stainless-steel reels are supplied with nylon coated stainless steel cable.