Safetec

Safetec is the leading provider of integrated marine control systems for the detection and suppression of onboard fires. Marine safety systems. Our product selection includes:
SDS-48 Smoke Detection System
This system is an explosion-proof solution. It is highly scalable, controlling up to 48 cargo holds by utilizing the existing CO2 fire extinguishing pipework to extract cargo hold air and blow it out of the vessel via fans.
E-CO2 Electric CO2 Release System
Designed for simple installation and intuitive use, the system typically works well in engine rooms and cargo holds. It controls fixed gas fire extinguishing systems and provides networking of release panels to a single release system and effective manual override function for onboard safety optimization.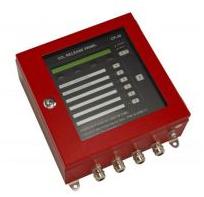 E-GAS Electrical Gas Release System
Designed to work effectively in controlling fixed gas fire extinguishing systems in onboard machinery spaces and cargo pump rooms, the E-GAS is simple, intuitive, and can control up to 32 extinguishing sections via a single release panel. It interfaces comprehensively with the ship's automation system to ensure securely responsive performance.
NOV-2 Novec Release System
This system effectively safeguards a single section, electronically controlling and automating the release sequence for effectively timed, safe gas discharge.
ACS-1 for FWBLAFFS and Sprinkler Alarm & Control Systems
This system controls the onboard fire extinguishing plants, and can be operated with or without an integrated fire detection system for automatic release.Simple to mount and operate, the system is adaptable to any kind of marine sprinkler setup.