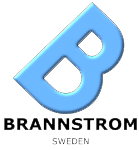 The 15ppm bilge alarm type BILGMON 488 is type approved to meet the requirements of IMO Resolution MEPC.107(49), and with its small dimensions it is ideal also for retrofit on existing separators. The smart detachable measuring cell with wireless communication is easy to remove and replace with a newly calibrated cell, if this is preferred to having the system accuracy checked on board. On special request the BILGMON 488 is also available as a 5ppm version meeting the requirements of Class notation "Clean Design". Brannstrom specializes in the field of MARPOL equipments for marine pollution control as per MEPC regulations , AL GHWASA TECHNICAL EQUIPMENT TRADING LLC Techno Services are the authorized sales and service agents for brannstrom products and factory authorized service station to perform Accuracy Checks , Upgradations , of Oil Discharge Monitoring Systems as well as 15 ppm Bilge Alarm Units as per IMO regulations.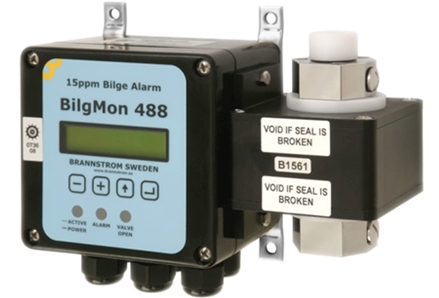 Technical Features
Oil content range 0 – 30ppm (current output 0-20mA or 4-20mA)
Approvals according to MEPC.107(49)
Power supply 115/230 VAC or 24V AC/DC
Measuring cell with wireless communication, easy to replace
Automatic fresh water flushing
User interface LCD display and keypad
Data retrieval via LCD display or USB port
Supplied complete with 3-way flushing valve, piping set, connectors
x
As per MEPC regulation Section 4.2.11 The Validity of calibration certificates should be checked at IOPP Annual/intermediate/renewal surveys. The accuracy of 15 ppm bilge alarms is to be checked by calibration and testing of the equipment conducted by a manufacturer or firm authorized by the manufacturer and should be done at intervals not exceeding five years or within the term specified in the manufacturer's instructions , whichever is shorter. Alternatively the unit may be replaced by a calibrated 15 ppm bilge alarm. The calibration certificate for the 15 ppm bilge alarm, certifying the date of the last calibration check, should be retained on board for inspection purposes.The accuracy checks can only be done by the manufacturer or firm or persons authorized by the manufacturer.
Al Ghwasa Technical Eqpt Tdg LLC are the authorized sales and service manufacturer authorized agents for Brannstrom Sweden.